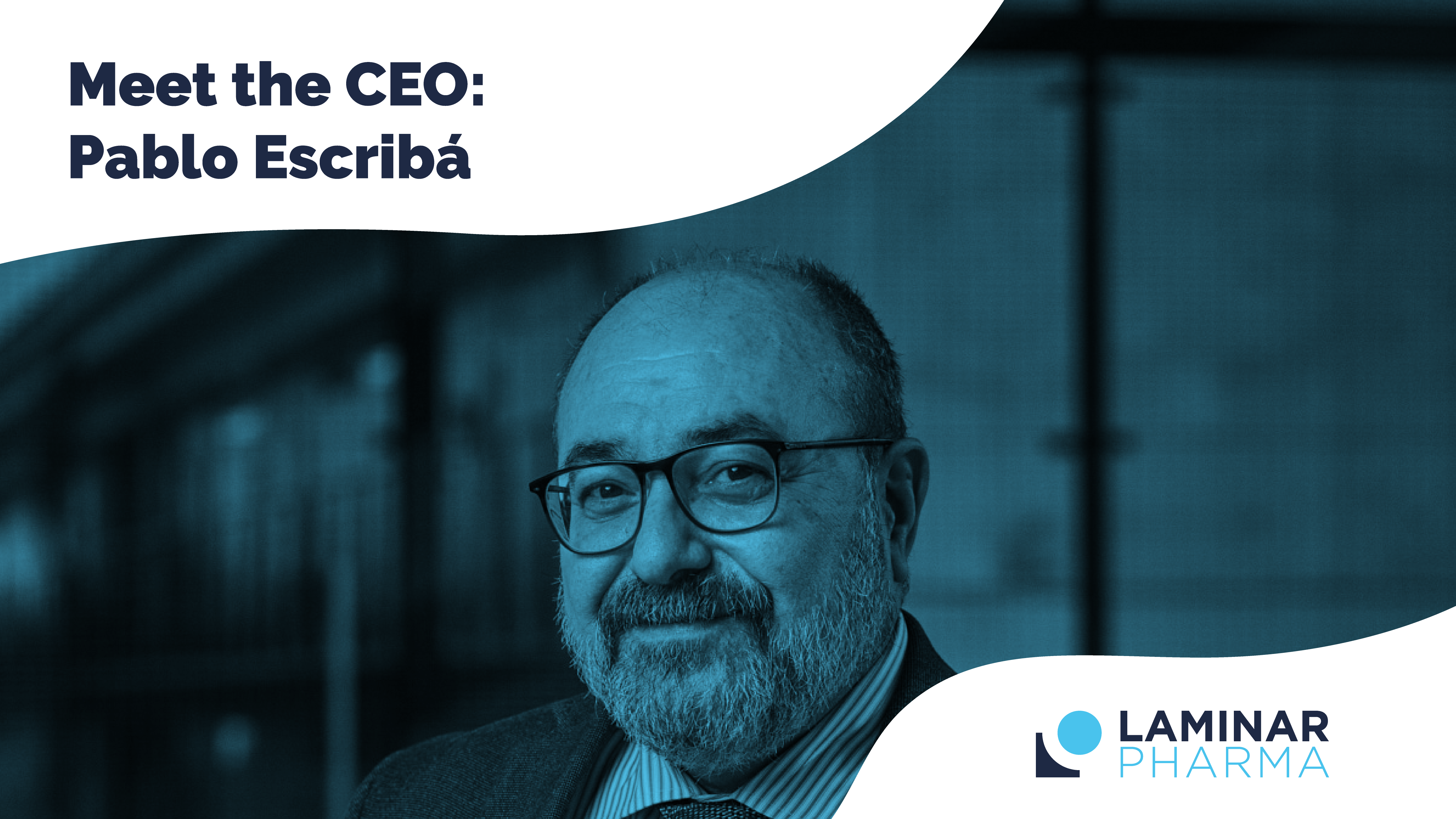 23 Mar

Meet the CEO: Dr. Pablo Escribá

"If someone has done it before, I can do it too – if no one has done it, I can be the first": for 30 years, this compass has guided the prolific scientific career of Dr. Pablo Escribá, founder and CEO of Laminar Pharma.

Since his early postdoctoral stages in New York, Kansas City and Charleston (USA), Escribá has been a pioneering researcher in the field of lipids, particularly those of the cell membrane and their interactions with membrane proteins. He discovered "lipid switches", drastic changes in the composition of the membrane caused by lipid alterations which trigger disease processes, such as the growth of certain tumors.

Escribá has also worked at the University of Alicante, the University of Valencia, the University of Geneva (Switzerland), the Biological Research Center of Szeged (Hungary) and the Cajal Institute of the Spanish National Research Council (CSIC). He is currently professor of Cell Biology at the University of the Balearic Islands (UIB), and it was here that he realised that he was generating knowledge with the potential to change the lives of patients of multiple diseases. Thus arose the momentum behind Laminar Pharma, spin-off company from the UIB that he founded in 2006 to develop a promising new therapeutic strategy based on all this knowledge: melitherapy.

Melitherapy takes advantage of the "lipid switch" phenomenon to design new drugs – synthetic lipids – that regulate the properties of cell membranes, in order to stop pathological processes such as the proliferation of tumor cells. These developments are advancing in areas such as cancer (clinical studies in Europe, Israel and the US), neuropathic pain (phase 2 clinical study), Alzheimer's disease (preclinical development) and some rare diseases.

Thus, Laminar Pharma has become what is known as a "prolific drug discovery engine", a platform from which various drugs can emerge, all taking advantage of the novel shared mechanism to treat very different diseases. In fact, the company is responsible for 8% of all new drug developments in the pipeline of Spanish companies belonging to ASEBIO (Spanish Bioindustry Association).

This commitment to translational science is what has distinguished Escribá in the academic sector of biotechnology. In his role as director of the UIB's master and PhD program in biotechnology, Escribá teaches three postgraduate modules, but there is one subject he likes best: Drug Design and Development. Few people in Spain have his experience to teach it: currently there are 10 clinical studies with molecules designed, investigated, patented and developed by Escribá, moving along the path from the bench to the bedside.

For the entrepreneurial scientist, getting to where he is now has been quite a challenge. Escribá recalls that, when he decided to start Laminar Pharma, the biggest challenge was finding funding. Everyone advised him to take his molecule research to phase II (human trials) before building a company. But he was determined to accelerate these discoveries, and he got the financial backing he needed. Currently, Escribá holds synthetic fatty acids in eight patent families, and some of these molecules have been licensed for development by other biotechnology companies.

In recent years, the scientific community has taken greater interest in the role of lipids in cell physiology, highlighting the potential of these molecules as drugs and therapeutic targets, an area in which Escribá is a pioneer and a worldwide authority. Normally, only one out of every 2000 new molecules is tested in humans and shows effective results against disease, but Laminar Pharma already has three owned or out-licensed molecules that have reached this phase II. And that's a clear sign that something is going well!